The CastleType Newsletter: January 2009
December was a busy month for CastleType, with the release of five new typefaces. Not bad for a one-man foundry. Just released last month, Dionisio has quickly become CastleType's best-selling font. Dionisio's cousin, Vincenzo, is another handsome face in the 'Modern' style. Other beautiful faces recently released: Samira, Chinoise, and the very elegant Spanish-inspired Esencia. I look forward to introducing many new faces in 2009. In the meantime, check out the latest releases below. And be sure to come visit the new CastleType web site. See below for details.




Dionisio Light
Dionisio™ was just released in December and has quickly become CastleType's best-selling font. Dionisio was inspired by the extremely condensed and elegant Ransahoff but with the warmth and sensuousness of Bodoni. Less extreme than either, Dionisio brings together the best of both, making it the perfect choice where a slender, sophisticated typeface is needed. Includes an extensive character set and OpenType features.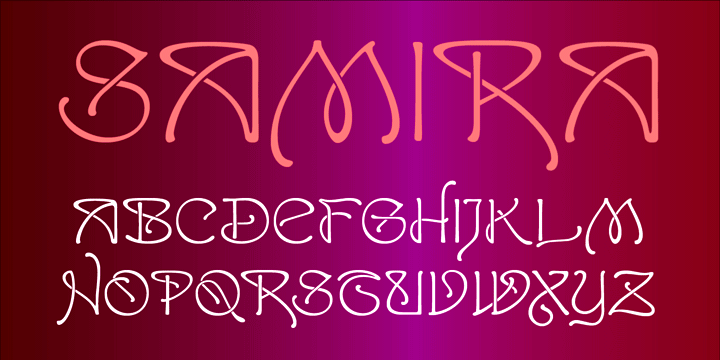 Samira
I must admit that I am not a big fan of the Art Nouveau style. However, I found a particularly beautiful Art Nouveau style alphabet, handrawn by Peter Schnorr in about 1898, that I decided to use as the basis for this new font. Samira™ is very graceful, elegant, and dare I say, organic. Includes some intertwined ligatures. Complete uppercase, numerals, basic punctuation. Supports most Western European languages.




Esencia
Esencia™, a CastleType original, was inspired by a Spanish stock certificate from 1941 with 11 beautiful art deco style letters for the words "PERFUMES y ESENCIAS". Slender, elegant, with a Spanish flare. Uppercase only with numerals and punctuation. Supports most Western European languages.




Vincenzo
Vincenzo™ is based on a beautiful condensed typeface from the 1920s or earlier as shown in "130 Alphabets and Other Signs"; original designer unknown. This is a "Modern" style with fine slab serifs, vertical stress, and high contrast between thick and thins. Uppercase only; supports most West European languages.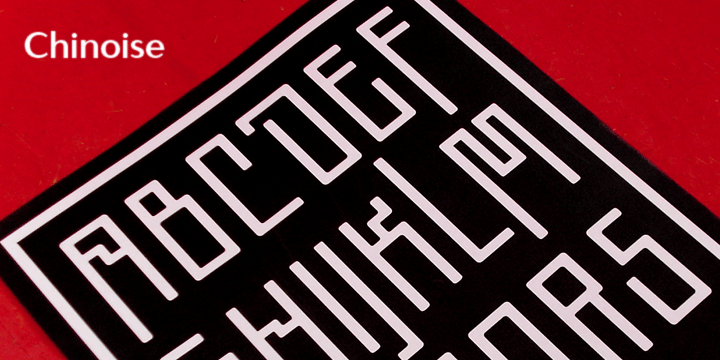 Chinoise
Chinoise™, a CastleType original, is based on hand lettering that is reminiscent of a style of ancient Chinese square-cut ideograms (perhaps cut in wood), and therefore the suggestive name "Chinoise" for this new design. Note that the 'X' is a "swastika", an ancient Hindu symbol of good luck. Because of the unfortunate stigma of the swastika in the West, I've also included an alternate design for 'X' in the lowercase position. In fact, there are alternate forms for each letter in the lowercase. Although square-cut, all corners of the letters are slightly rounded to give a more organic, weather-worn look. Uppercase only with support for most European languages.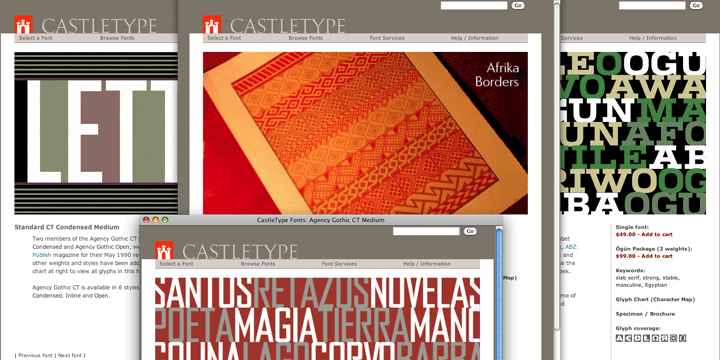 New and improved site design!
As you may have guessed, this newsletter is a preview of the new CastleType web site. Better graphics, easier and faster navigation, more information. Please check out the new design and let me know what you think. Your comments and suggestions are always welcome.



If you no longer wish to receive this newsletter, please send a blank email to: unsubscribe@castletype.com